Wow, you guys did an amazing job this weekend! Sorry it took us so long to get everything figured out - we wanted to make sure we weren't missing anything. We haven't determined yet if we'll continue with the comment-submissions yet, so stay tuned next time to see what you need to do.

We had a total of 337 individual ficlets written this weekend! That's outstanding, and nearly double what was written last month!

This contest's grand prize winner is
noxnoctisanima, with a fabulous total of 43 ficlets written.

Our secret categories this time around were most varied fandoms written and most varied fandoms prompted.
noxnoctisanima wrote in 34 different fandoms, and
toestastegood had prompts from 19 different fandoms answered for her.

Congratulations to both our winners, and thanks to everyone for participating! Keep up the great work, and don't forget to take a peek at today's theme (or the Lonely Prompts still in need of homes) and have fun! Graphics will be posted here as soon as we're able - our graphics monkey is a bit busy.

ETA: We've got your pretty badges!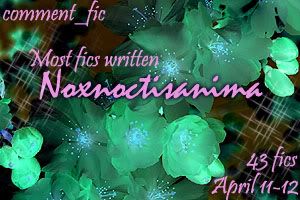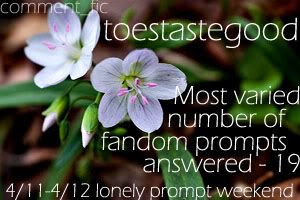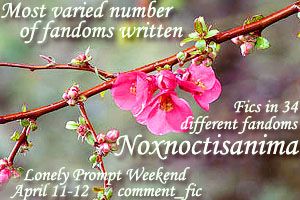 Which brings me right along to my request: our other graphics monkey has had to step down due to things in real life. If you're interested in helping out with the comm, and are artistically oriented send me a PM or comment here with your email address! We try to rotate who is responsible for graphics badges etc for each contest so that no one is too overwhelmed. Remember, the next contest is only a couple of weeks away!


Thanks again to everyone, and have a great Wednesday!