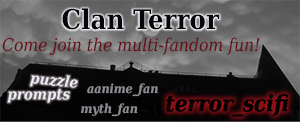 Clan Terror: A family of multi-fandom comms with a little something for everyone.
puzzleprompts
Monthly prompt challenge with a twist. All fandoms/genres/ratings welcome.
terror_scifi
Reviews, news, essays, fan vids, graphics, original fic and poetry for all speculative fiction/media.
Bi-weekly newsletter promotes Clan wide activity and member fan works.
Special Summer Ficathon ~ Cosmic Collision ~ TBA soon.
Fan fic, graphics, artwork, vids, news, and meta:
aanime_fan
For fans of American animation, CGI, video games, and cartoons.
myth_fan
For fans of mythology, fairy/folk tales, and urban legends in media.